15 inch SSA Digital Photo Frame
New Arrival 15 inch Digital Photo Frame
1.Photo+Music+Movie+Calendar+Clock +16GB Memory +WIFI+Touch+Email
2. Support viewing pictures in thumbnail mode
3. Slideshow Pictures in Splitscreen(One/Tripe/Four Windows) with back groundmusic
4. Picture file format: JPG, JPEG, GIF, BMP, PNG
5. Music file format: MP3,WMA,MP2,OGG,AAC,M4A,MA4,FLAC,APE,3GP,WAV
6. Movie file format (Support FHD1080P): AVI(H.264, DIVX, DIVX, XVID, rm, rmvb, MKV(H.264, DIVX, DIVX, XVID), WMV, MOV, MP4
7. Auto-Slideshow when inserting Memory Card
15 inch WiFi digital photo frame with Touch 1400*1050 IPS(4:3) 2G/16GB Storage electronic photo frame
Detail Specification
LCD Size

15"(4:3)

Resolution

1400*1050 Pixels  IPS

Panel

TFT LED Screen (IPS+Touch  Panel)   and Remote Control

Nor Flash  

2GB

Built-in Memory (Optional)

16GB

USB Port

USB 2.0

Memory Card

SD Card

Solution (Chipset)

RK3566, Quad Core, Cortex A55, 1.8GHz (Rockchip)  Android 11,  Own Style UI

Built-in Speaker

2X2W

Multimedia Support

Picture Format

JPEG / BMP / GIF / TIF / PNG

Music Format

Mp3 / WMA / OGG / AAC / APE / FLAC / WAV

Vedio Format

MPEG1 , MPEG2, MPEG4

(Divx4.0,Divx5.0, Xvid)AVI and M-JPEG, MKV , WMV, ASF MOV, MP4 , H.264, 3GP .

1. Photo+Music+Movie+Calendar+Clock +16GB Memory +WIFI+Touch+Email  




2. Support viewing pictures in thumbnail mode




3. Slideshow Pictures in Splitscreen(One/Tripe/Four Windows) with back groundmusic




4. Picture file format: JPG, JPEG, GIF, BMP, PNG




5. Music file format: MP3,WMA,MP2,OGG,AAC,M4A,MA4,FLAC,APE,3GP,WAV




6. Movie file format (Support FHD1080P): AVI(H.264, DIVX, DIVX, XVID, rm, rmvb, MKV(H.264, DIVX, DIVX, XVID), WMV, MOV, MP4




7. Auto-Slideshow when inserting Memory Card




8. File & Folder Management: Browse all files or folders in the memory device




9. Built-in Clock, Alarm and Calendar with Slideshow Window, Schedule Auto On/Off




10. Image-Display Mode: Split Screen/Rotate/Zoom/Slideshow/Preview




11. Adjustable Brightness, Contrast, Saturation




12. Copy Files to memory and Delete files in the Cards & Memory




13.Built-in Stereo Speaker (1x2W) and Earphone Jack




14. OSD Language: English,Japanese,German,French,Spanish,Italy


15. Vedio & Audio Playback Function                                    
16. Wall mounted + IPS Panel +Touch Panel
17. Sharing photos & short video with family via    

SSA APP

     
---
Product Description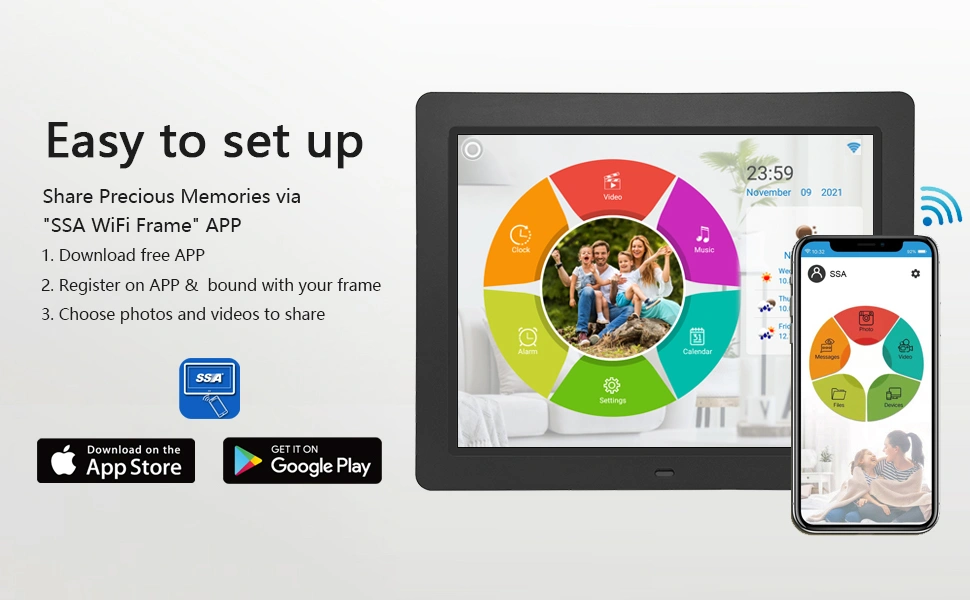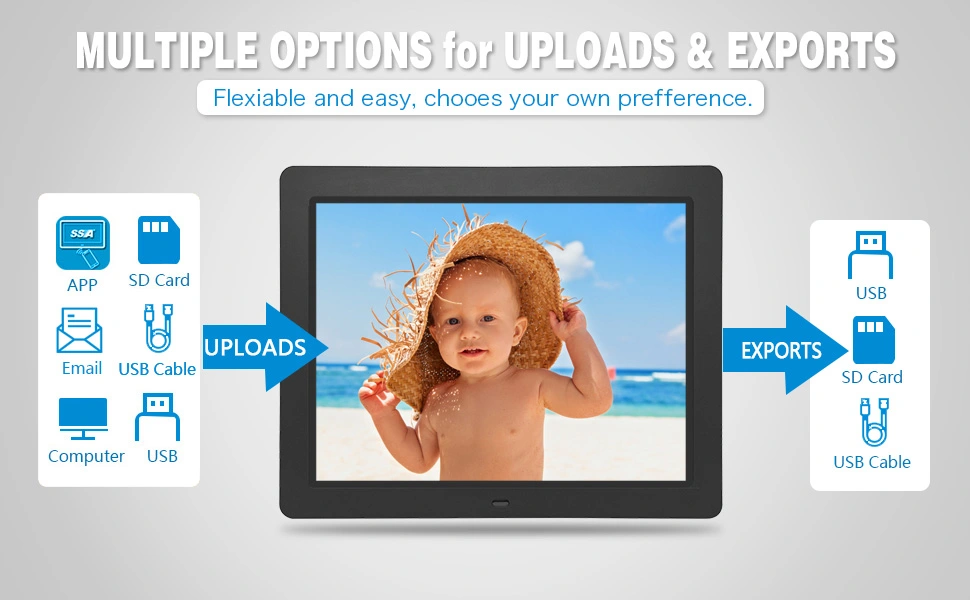 15"Full HD Touchscreen with Remote Control

Intuitive Touch screen interface or the included remote control makes 15 inch SSA Digital Picture Frame Easily operate. With high definition 1920*1080 aspect ratioc 4:3 panel photos can be seen clearly from any viewing angel.

Share Photos or Video

The digital picture frame is not a traditional frame which can only display photos, it can also play lively videos with max.30 seconds! Besides, you can put a unique caption on photos and videos.

Built-in 16GB, SD Card and USB Drive

Built-in 16GB memory empowers a huge capability of storage. Extended SD card and USB drive (Max 32GB) provide more file storage, also can Export or Import files.
Weather Feature

Provide daily and next three days weather reports based on your country and city location, with small slideshow window on the right area.

Calendar Feature

Provide updated calendar to check your date and arrangements, with small slideshow window on the right area.

Alarm Feature

Provide several reminder rings to remind your date or arrangement,or For your family

Clock Feature

Provide several display styles of clock, just tap twice Swipe left and right on the clock interface and select your favorite one.