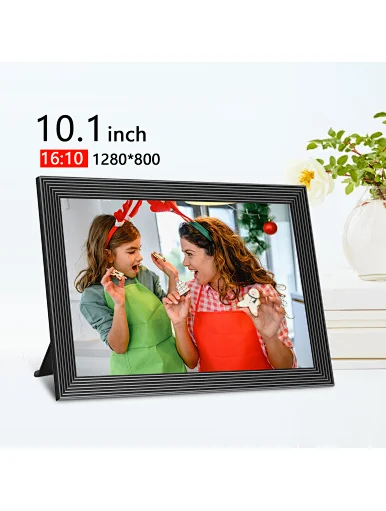 Frameo Digital Photo Frame
Model:ZN-DP1003
Resolution:1280*800 IPS
Memory:1+16GB
Auto Rotation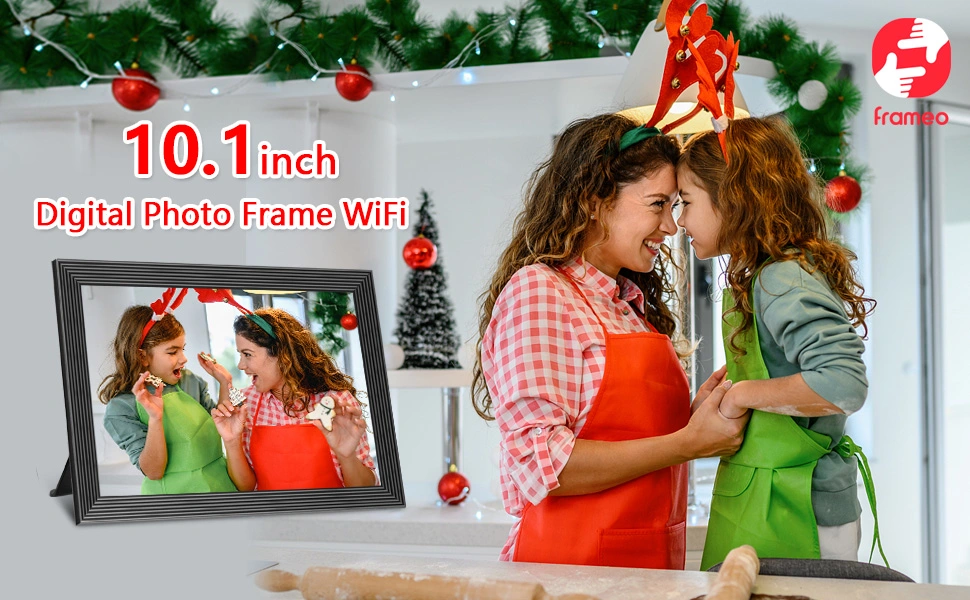 Why choose our FRAMEO WiFi Digital Picture Frame?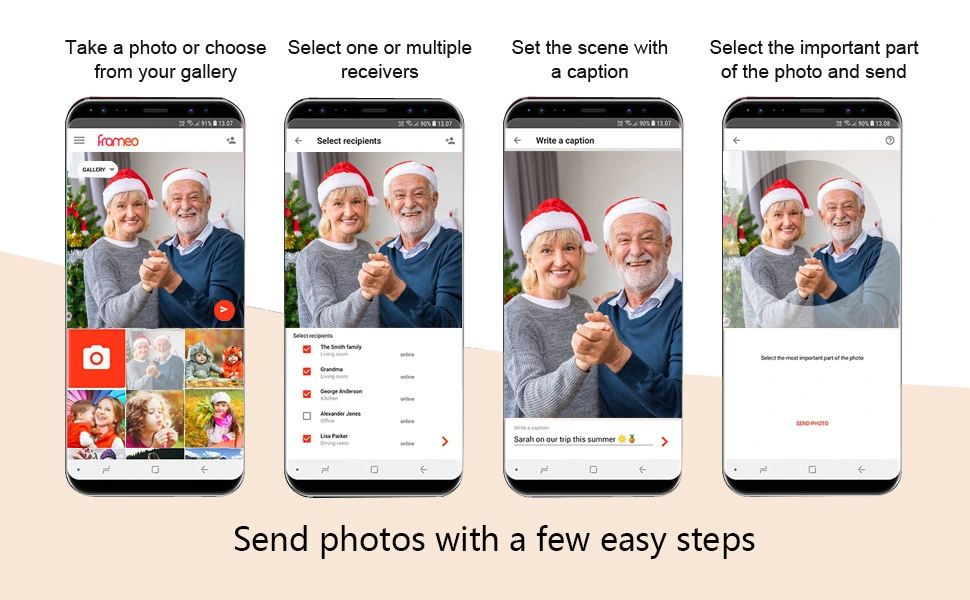 All in One FRAMEO Digital Picture Frame.
Mother's Day,Father's Day,Christmas,Thanksgiving,Graduation,Birthday,or a great gift for our grandparents who may not be very tech-savvy.
With this digital photo frame,you can Share wonderful moments Instantly via"FRAMEO"App from anywhere and anytime.
FRAMEO App is a lifetime app.
Screen Size:10.1 inch
Resolution:1280×800(16:10 Ratio)
Storage Space:16GB & Micro SD card slot
Picture Format:JPEG/BMP/GIF/PNG
Video Format:MP4 (only)
Auto-Rotate Function&Adjustable Light
Share your Moments
FRAMEO 10.1 inch WiFi Digital Picture Frame-Sharing Your Moments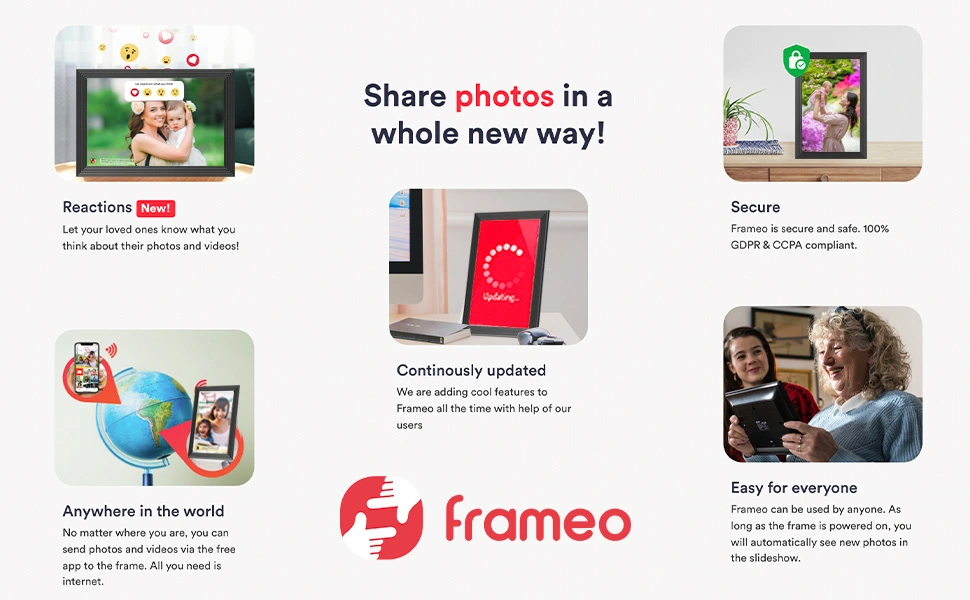 FRAMEO WiFi Digital Picture Frame is totally a new design of sharing pictures or small videos with people you care,especially for the old people.
When you are travelling,when your family member having a birthday party or any cherish times etc,there are moments you want to share with your parents,brothers,sisters,grandparents,relatives or friends,you just need to take a photo or a small video and send it immediately to the photo frame and let them feel the joy you feel,tell them by photo or video that no matter where you are,you always miss them and care for them.
Sleek Modern Design Perfect as Home Decoration
Crafted in minimal sleek modern design,it will sit nicely on a book shelf,mantle or night stand.Packaged in beautiful box,FRAMEO digital frames will be your ideal gifting option for important ones.
FRAMEO 10.1 inch WiFi Digital Picture Frame-Sharing Your Moments
Electronic photo frame with touch screen

1280*800 IPS full HD touch screen,16:10 aspect ratio will provide you with clear details and vivid colors.Very suitable for people of all ages,the sensitive touch screen will follow your fingertips to slide through the massive photos or videos.

Auto-rotate for flexible adaptation

This WiFi digital photo frame can automatically rotate photos to flexibly adjust the direction,and the frame will fill the blurred background and display without black borders. And it also supports wall hanging,a wall hole is designed on the back of the photo frame,which can be hung on the wall.

Share wonderful moments anytime

This digital photo frame supports multiple users to share photos.This will become a new way for you to deal with interpersonal relationships.You can also use personalization settings such as playback order/image zoom/hide or show pictures/show title/adjustable brightness/sleep mode/photo interval etc.
FRAMEO 10.1 inch WiFi Digital Picture Frame-Sharing Your Moments
Add Friends up to 20 users and Easy to Manage user

It can easily maintain your intimate network in this photo frame by adding new users and managing your bound users,and you can also delete to add other users.Besides you can set allow your friend to share your photo frame Code to other friends directly From Frameo App.

IPS screen,178°viewing angle

The beautiful frame can also be used as a decoration,you can put the frame on the table or hang the frame on the wall.The 178° bright-angle IPS screen allows you to enjoy photos from all angles.

Massive storage space

Worry about storage issues?Store Over 40,000+ Photos with 16GB Memory Storage.It also supports Micro SD card (max.32GB) connection,enabling you to export or import photos and videos to better manage albums without worrying about the cloud storage space of the Frameo APP.