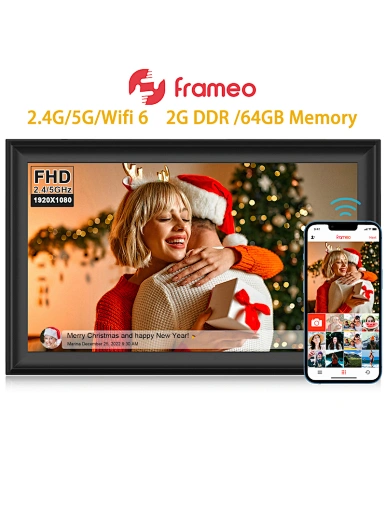 15.6 inch FRAMEO Large Digital Photo Frame Wifi
ZN-DP1502
15.6inch 1920*1080 IPS
RAM: 2GB/64GB
2.4G/5G/Wifi 6
Resolution:1920*1080 IPS
FRAMEO
Frameo Digital Photo Frame 15.6 inch WiFi Digital Picture Frame with 1920*1080 IPS LCD Touch Screen, Auto-Rotate, FRAMEO 15.6 Inch Wifi Digital Photo Frame, Slideshow, Easy Setup to Share Photos or Videos Instantly via Frameo App from Anywhere
【Private Sharing of Photos and Videos】

Share your photos and videos (up to 15 seconds long) from anywhere in the world through the Frameo App with complete privacy and safety. Your loved ones or friends can view them instantly on their FRAMEOdigital photo frame. The Frameo App is available for both Android and iOS devices. Simply download it from Google Play or the App Store and connect it to your WiFi digital photo frame.
【Exceptional Picture Quality】

This 15.6-inch digital photo frame boasts a 1920 x 1280 resolution touch screen that provides a stunning visual experience from every angle. The IPS technology ensures a wide viewing angle and accurate color reproduction, so you can enjoy your most cherished moments in vivid detail.
【Impressive Features】

TheFRAMEOwifi digital picture frame comes with numerous impressive features. It can automatically rotate photos to adjust their orientation and has a detachable holder that doubles as a frame stand for both portrait and landscape modes. You can also mount it on a wall. With its multifunctional custom settings, you can adjust the play order, image zooming, hide/publish images, display captions, and adjust the brightness.
【Easy Setup and User-Friendly Interface】

The user-friendly interface of the FRAMEO wifi digital picture frame makes it easy to use for people of all ages. Setting it up is a breeze, and the intuitive touch screen makes usage easier than ever before.
【A Heartfelt Gift for Your Loved Ones】

This digital photo frame is perfect for a variety of occasions such as birthdays, weddings, Mother's Day, Christmas, family gatherings, and more. By displaying your cherished moments on the digital photo frame, you can share them with your loved ones in a sincere and heartfelt way rather than keeping them locked away in your phone.
Package Include:
1×Digital photo frame
1×DC adapter
1×Stand
1×User Manual