Multiple APP Options for Digital Photo Frame
Multiple APP Options for Digital Photo Frame
author: SSA-Lynn
2022-04-28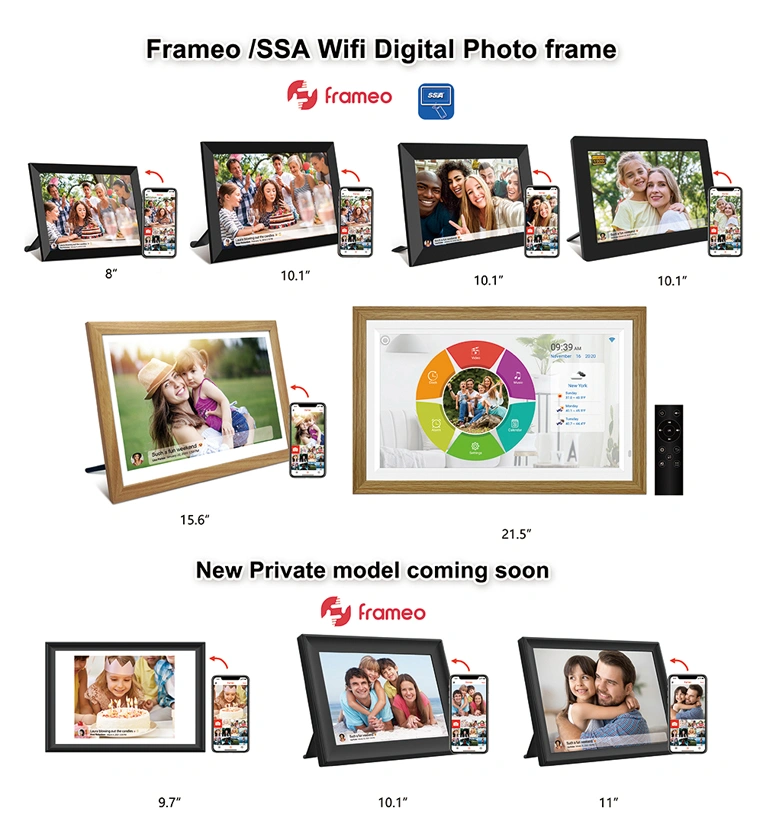 Now our product: digital digital photo frame has become a hot product, both online and offline.
In order to allow customers to have more choices, SSA provides more choices for product molds and software. Today we mainly focus on our different APP to introduce to you.
Frameo APP
This is the first choice among customers. The operation of this software is simple. One photo frame can be connected to multiple devices. Through the add friend option, only need to enter the verified number to connect the device.
Through the connection of mobile phone and WiFi, we can share every moment with the one you love no matter where you are.
SSA APP
This is a software independently developed by our SSA, and its functions are much more than Frameo APP. It can not only upload products through software, but also upload pictures and videos to our electronic photo frame through e-mail, Twitter, facebook. besides. We have also added a regional display, time display, and weather display to the main interface. Function Added alarm clock function.
WhalePhoto APP
With Alexa Voice Assistant
This software is introduced by us in 2021. Everyone should be familiar with this software. This is Amazon's joint software. With voice assistant. By directly communicating with the Alexa voice assistant, you can control the electronic photo frame. There is also this diversification in terms of functionality.


The above is our main optional APP, but of course if customers want to customize their own software, we can help customers to test and modify them on our machines. As long as you have needs, we will try our best to meet them!
Ps: In the future, we will develop more software and integrate it into our products.